You may recognize this couple from the blog- they were the runners up in our
Wedding Day Giveaway Contest back in 2009
. If you remember, we let our readers do all the voting, some parts to get you all involved, but a lot of parts because we didn't want to have to be the ones that told any of the sweet couples they didn't win. There. We said it.
So imagine my sheer excitement when I got a call from Christina and met with her for the first time last November (can't believe it's been a year already!). We met and talked about her modern vintage feel she was going for, taking a lot of cue from her dress and awesome bohemian headpiece she was planning to wear.
We also talked about the venues- Dave and Christina got married at the US Assay Office Building in Boise, (also known as the US Historic Building) and had their reception at the popular Penthouse at CW Moore. Like most brides, Christina craved something different to be done at the reception, especially with the ceilings. Being already lower than most, we had to be careful not to close in the room even more. After almost 10 months of planning, our eclectic, modern yet vintage, with-a-little-bit-Vandal design was realized. Check out some of the details from their gray, yellow, and white wedding below: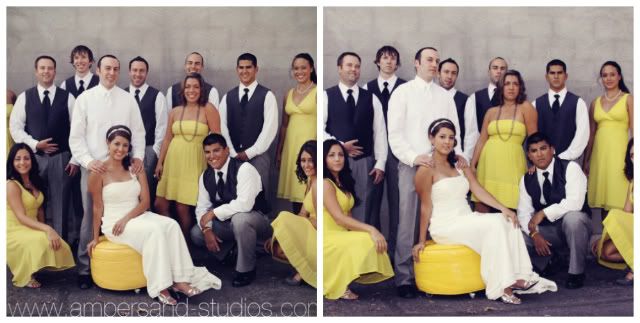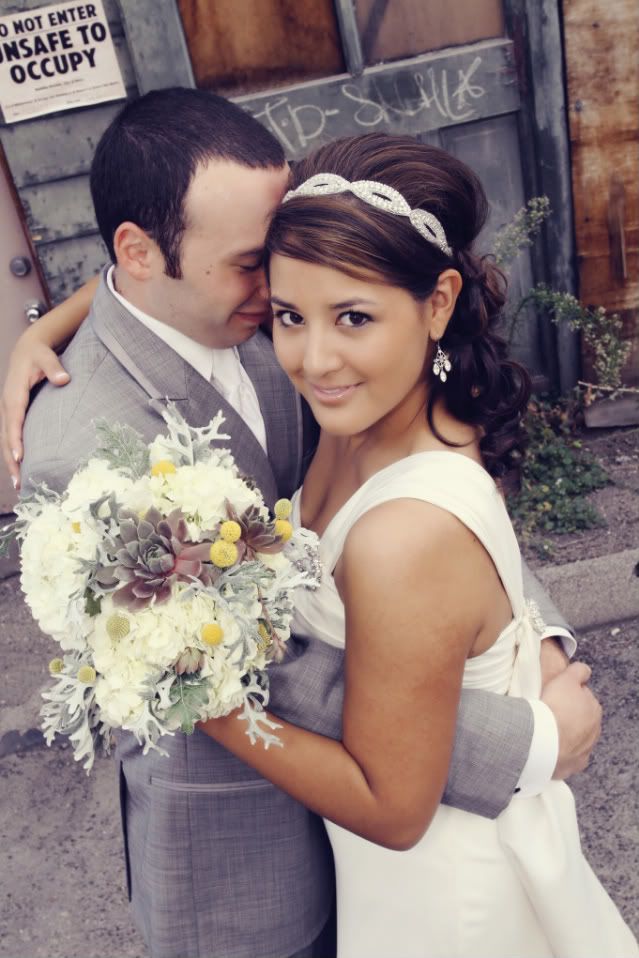 Christina's bouquet was comprised of yellow billy balls, white hydrangea, succulents, dusty miller, and thistle.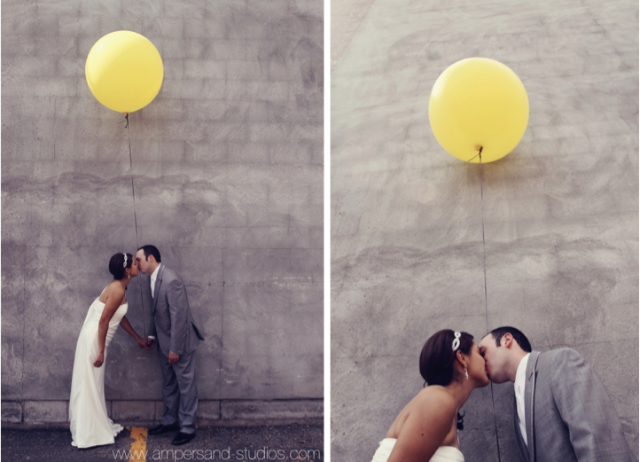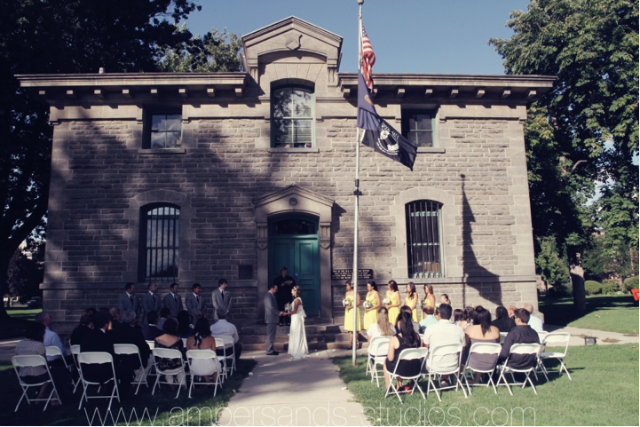 The simple ceremony in front of the US Assay Office in downtown Boise.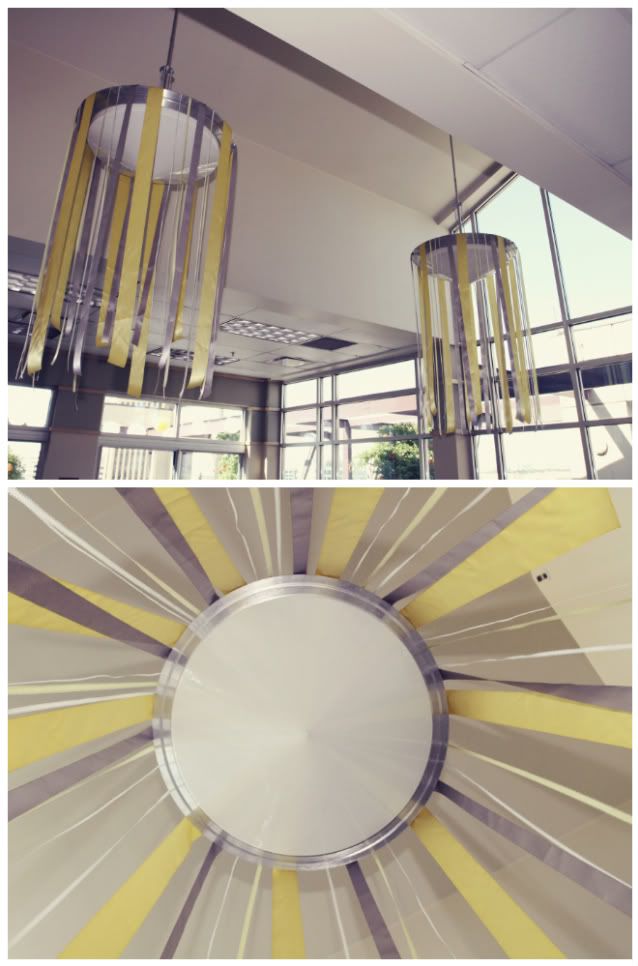 At the reception we decided to leave the ceilings alone and instead created ribbon chandeliers. We thought it made a perfect central focal point without making it feel like the ceilings were closing in!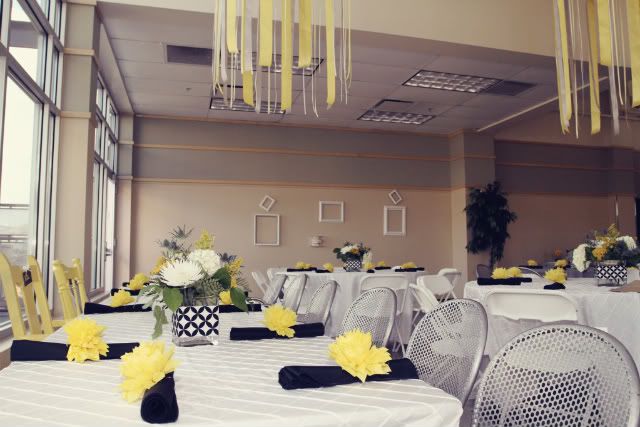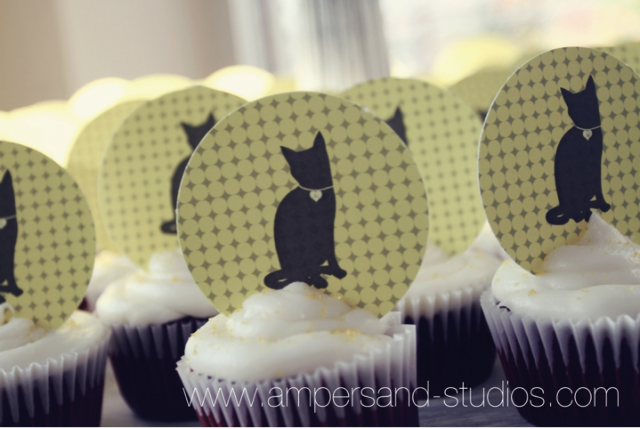 Kitty tags designed by Ampersand Studios. These were in honor of the couple's "furbaby", Nicco. I told Christina we'd find a way to include him in the wedding!
And one more view of the cake and cupcakes because we like them...
We love love LOVED working with Christina and Dave on their Labor Day weekend wedding. All the personal details were devoured by her guests, and it was quite the party, if we do say so ourselves.
The Team of Vendors:
Planning & Design:
Soiree
Photography & Kitty Tag Design:
Ampersand Studios
Ceremony Venue:
US Assay Office, Boise
Reception Venue:
The Penthouse At CW Moore
Florist:
Boise At Its Best
Linens:
Cloth Connection, New York
, and
Tates Rents
Caterer:
Kanak Attack
DJ:
Pro Entertainment
Cake:
Greg Marsh Designer Cakes
(cupcakes were made by the bride's mother)
~Happy Planning!