It's the fall edition of New York's Bridal Fashion Week- aka Bridal Market- and as usual, we're impressed with the new gown collections set to grace the stores soon. Like Fashion Week, Bridal Market showcases brand new, never-before-seen designer trends for the upcoming season. While I was not one of the luckies that were invited to see the show in person, you can bet I've been following them daily. Here are a few of my favorites that I felt made the biggest impact: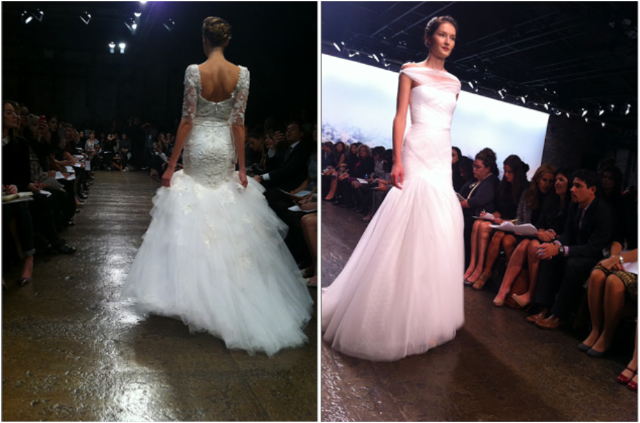 Monique Lhuillier
. Need I say more? She never fails to take my breath away with the ethereal qualities, and her ability to design dresses that make anyone look amazing. Her newest collection didn't disappoint, and I was happily surprised to see this gauzy number (
right
)- a nice change from her famous lace creations.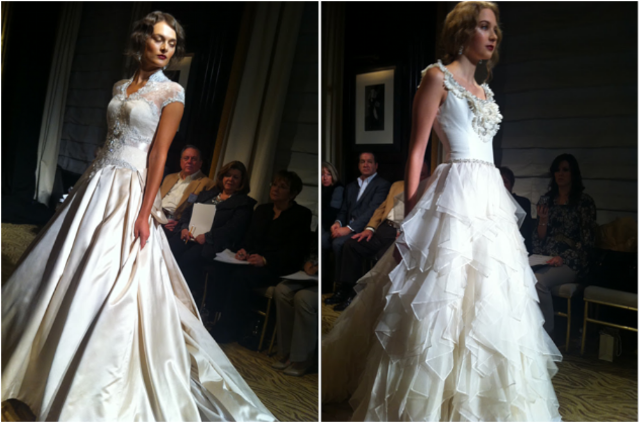 St Pucchi
took the cake for me this year- especially since I'm not normally the St. Pucchi type. The dresses are always awesome, but their signature nude effect with boning and over the top skirts and embellishments just aren't my style. But these dresses from the new collection stopped me in my tracks- almost modest, but not, yet strikingly elegant at the same time. Love.
Vera Wang
- I'll never get enough. Vera threw traditional white out this year and replaced it with nudes and *gasp* all black gowns. Remember the black gown trend a few years ago? I never could tell if the fad took off and turned into a trend back then, but what are your thoughts- think it will turn into a 2012 trend this year?
~Happy Wednesday!