1. | 2. | 3. | 4. | 5.
Sorry for the late post today...but we've got things up our holiday sleeve! It's December 2nd and it's time to break out those holiday polish colors. I've been experimenting this year with new color families that I don't normally choose; for instance, I decided to try out this whole black nail look. For someone that doesn't normally paint their fingernails at all (I'm more of a pedicure person, with nude nails), this was going to be a big jump. So I found OPI's Siberian Nights- it was a perfect transition color for me- not quite black, but with a hint of onyx/purple in it. I received so many compliments on it (although it did take the hubs a bit to get used to it). Since then I've been on a nail polish kick so I put together my favorites list after trying on several of these at Sephora on Black Friday. My newest favorite is Sephora By OPI's Under My Trench Coat...a perfect combination of nude with a little glam...just a hint of sparkle. The others are just lovely holiday shades and topcoats, and the little blush dittie? I had to throw this one in- I've had this shade in Sally Hansen's Diamond Strength collection for years now, and I never cease to get many many compliments on the shade. If you're more of a nude nail gal like myself, try this shade on- it adds just a hint of color for a dressed up nail. Would look great on a wedding day as well as at a holiday party when you're all gussied up in a sparkly cocktail dress.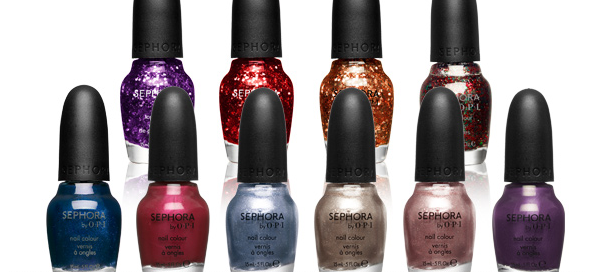 What are your favorite nail colors this holiday season? Do share, because you'll be entered in one of our first holiday giveaways this month! We loved the Sephora By OPI holiday colors so much that we're giving some away so you can try them on this season too. Here are the details and ways to enter:

* The winner will be able to choose from one of the three options from Sephora By OPI's Glimmer Wonderland Collection:
- Glimmer Wonderland Six Piece Mini Nail Color Set :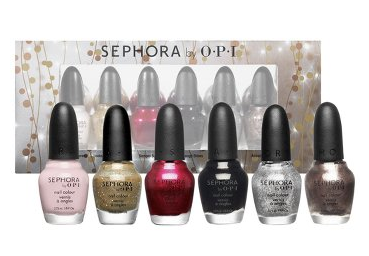 - Glimmer Wonderland Four Piece Mini Nail Color Set :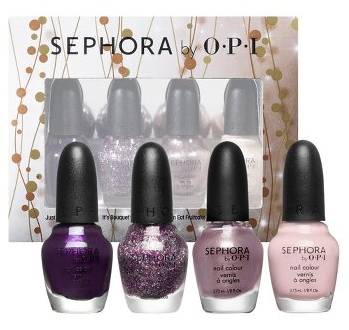 - Or choose 2 of your favorite Glimmer Wonderland shades in full size bottles
Two Ways To Win:

- Leave us a comment telling us your pick out of the giveaway collections on the blog and on twitter (hashtag #soireeholidaynails).
*OR*
- Leave us a comment here on the blog and "like" our Facebook Page. Leave a second comment here telling us you did so.
**Bonus entry: To be entered twice, also tell us where you would wear a specific color out of this collection- is it a holiday party? To work? New Years Eve? We'd love to know!!
Good luck and merry polish shopping. Giveaway ends at 5p MST on Monday Dec. 6th, and winner will be announced at Noon MST on Tuesday!