A few weeks ago we got to see the vision of an Asian Zen theme come to life. Andrea, Jason, along with Andrea's mom and big sis came to us about 3 months before the wedding...with almost nothing done.
They had the venue, The Penthouse at the CW Moore Plaza secured, and Andrea had just placed the order for her wedding dress. I met with big sis and mom for a consultation, and they were just plain frightened. To make matters worse, Andrea was trying to plan the wedding states away in Michigan, along with another reception back east. Yep, they had a lot on their minds.
So I asked Andrea to send me pictures of anything she had clipped or saved..anything that caught her eye. Being a pretty laid back bride (and by laid back, I mean borderline frightening to planners..she knows I mean it in the nicest way!), I knew by giving her a homework assignment we would be able to hone in on what she really wanted.
What came over was a influx of greens, browns, orchids, and lanterns. Even river rocks. Plain and simple, I knew we had an Asian Zen theme coming on. So, for their design meeting I designed an inspiration board full of all things natural, serene, and earth-toned. We kept to kiwi greens for that pop of color, and decided to infuse natural elements every where- tissue, bamboo, capiz, sandalwood, grass, sand, and rice paper (yep, we even hand-cut hundreds of paper circles for our toss cones out of mulberry paper as a close rendition of rice paper).
We carried the theme further with the guest book- instead of the traditional book or signing matte, we worked with the florist to design a Zen Garden; wish cards with four different sayings were provided for guests to fill in their advice and then were placed in our garden of sand, river rocks, and spider mums. The guests loved it!
All in all, we loved working on this fun yet natural wedding that suited the couple perfectly. We'll be back with the pro photos in a few weeks, but for now, a sneak peek of the day, enjoy!


We purchased green and white parasols for lining the aisle out on the patio as well as for the girls during photos.





Centerpieces were a combination of orchids, spider mums, river rocks, and bear grass with floating candles.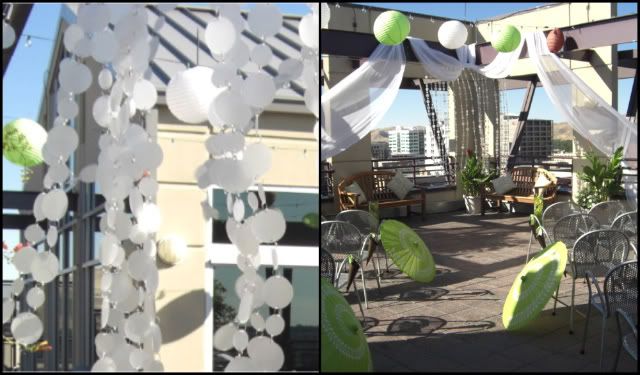 Capiz shells floated in the wind at the altar along with gauzy fabric to soften the space. The altar area later served as a lounge area for guests with benches and patterned pillows...lovely!

And finally, because it's not often I get caught in pictures..here's one of me putting the finishing touches on the sandalwood fans and tossing cones: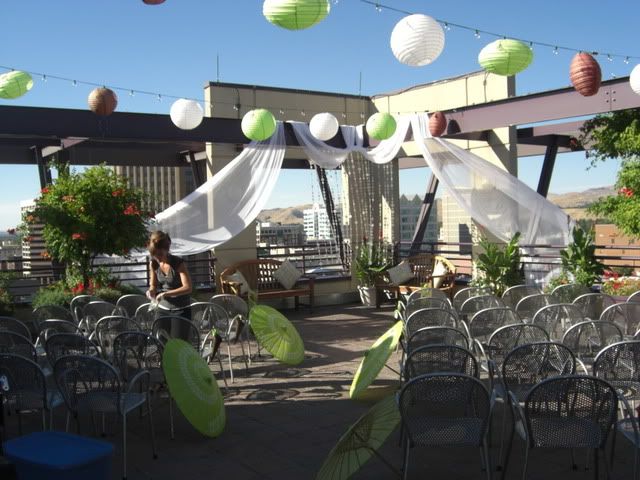 ~Happy Wednesday!