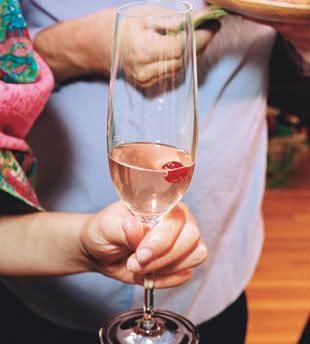 via
Every year on Thanksgiving (and Christmas for that matter), my family breaks out the champagne as our sipper of choice. We usually end up at my parent's house around noon, and spend the next few hours watching football, munching, and having our signature Jenga tournaments (and yes, I am the reigning champion. It's all in the
tap
of the finger, folks). I don't know when exactly we started the tradition of having the bubbly during the holidays, but it's been around for a while and we look forward to it every year. Here's a super simple twist on the drink, by adding cranberry to it. Enjoy and happy planning this Thanksgiving week!
Cranberry Champagne Cocktail (by Tyler Florence)
Ingredients
1-ounce cranberry juice (sweetened)
1 wedge lime
Champagne or sparkling wine
Cranberries (frozen)
Directions
In a chilled Champagne flute add cranberry juice and a squeeze of lime. Top off the glass with Champagne. Garnish with 3 or 4 cranberries.
xx,
Brandi