We were thrilled yesterday to have our inspiration shoot featured on Style Me Pretty, and we thought we'd give you all the details in case there was something you loved and needed to include in your wedding too.
First up, the design board. I do these for all of my planning clients, and it not only helps them with the vision to see ideas, colors, and resources all in one spot, but it also helps us. Once the design board is finalized, we do an idea board as well so we know exactly what orders to place, and when to place them. Makes it simple and fun.
The vision originally started out with moss. I don't know what it is, but I just like moss and I'm always attracted to it. Then I saw the brooch on the bouquet and I knew there needed to be a twist with the moss; so often it's in a rustic, woodsy setting that I wanted it to have a little glamour too. So with that, we tried to keep the table light with lots of acrylic and glass, and add to it my new favorite color palette with peach and blues, you have this dream of a table.
From there we tried to create an equal mix of contemporary and whimsy, which was actually a little bit difficult. Too much whimsy and it would be weird, too contemporary and the whimsical elements would be out of place. So we turned to a little high fashion in the way of hair, makeup, shoes (oh, the shoes!), and her wedding dress. This, paired with the moss elements just seemed to work.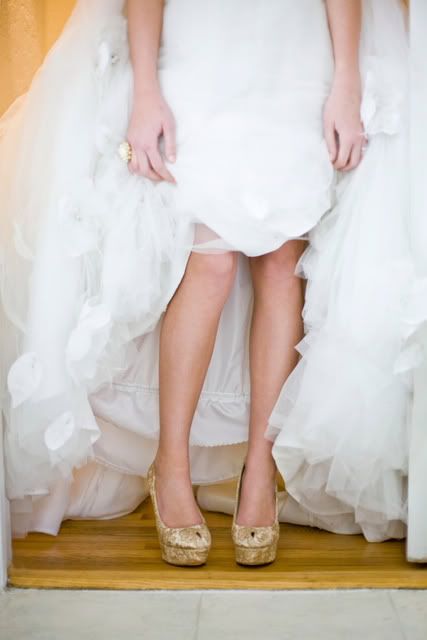 The dessert table was one of the most fun elements in the whole shoot- I really wanted it to be playful. Gourmet popcorn and cotton candy gave it a little circus vibe. We hand-formed the cotton candy into balls and used lollipop sticks for displaying; all of the moss-covered boxes were actually hat boxes covered with this magical creation known as Super Moss. If you ever need to cover large areas of moss in a short amount of time, use this stuff- it comes in squares and is easy to cut to form and hot glue on. We did the same thing with our popcorn boxes.
Since the table leaned more toward the contemporary side, we had Ampersand Studios help us to create a whimsical stationery set. The stripes matched the sun room walls perfectly, and the font was both elegant and fun at the same time.
For all of the photos, be sure to t
ake a peek at the Style Me Pretty feature
, as well as
Tana Photography's Facebook page
. Let us know if you have any other questions on how-to's, sources, etc. We'll be happy to answer!